Best Galaxy S22 and S22 Plus deals, get a free S22+
We may earn a commission if you make a purchase from the links on this page.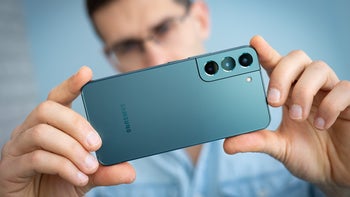 Samsung released the Galaxy S22 series and we round up the best Galaxy S22 and S22+ prices you'll be able to get at Verizon, T-Mobile, AT&T, Amazon, or Best Buy, too. We'll save you the suspense, Samsung itself has the best Galaxy S22 and S22 Plus deals with extra colors, gifts and discounts to be had.
Samsung Galaxy S22 and S22 Plus deals
Best Galaxy S22 and S22+ deals at Samsung
Up to $700 enhanced trade-in offers
$50 in Google Play Store credit for apps, games, and media
Free 256GB storage upgrade ($50 value)
Four exclusive Galaxy S22/S22+ colors: Sky Blue, Graphite, Cream, and Violet
Discount bundles with the Watch 4 or Watch 4 Classic
Up to $40 off for Education, First Responders, Government, Workplace and Military discounts at Samsung.
Unlike what it does for the Ultra, Samsung issues less credit or instant discounts for its lesser siblings, so you can grab $100 in Play Store credit for the S22 or have their 256GB versions for the same price Samsung sells the 128GB one. 
Samsung, however, offers four exclusive Galaxy S22 and S22+ colors – Sky Blue, Graphite, Cream, and Violet – you can only get if you order directly from it, as well as unsurpassed trade-in offers that will knock up to $700 from the price of an S22 or S22+ in exchange for your clunker, starting them off from $99.99 even.
Galaxy S22 and S22+ deals on T-Mobile, Verizon, and AT&T
$50 instant activation discounts at Samsung, no trade-in required.
$1000 off at Verizon with a trade-in
Trade in any $35 phone on AT&T, even a cracked screen one, and get $800 off the Galaxy S22 and S22+.
Free 256GB storage upgrade.
T-Mobile, Verizon, and AT&T seem to have better deals if you activate on these carriers via Samsung, as it applies instant discounts instead of trade-ins only, and tacks on gifts, not to mention the four exclusive colors you get there. 
Otherwise, Verizon offers $1000 off with a Galaxy S22+ BOGO or a trade-in, while AT&T and T-Mobile go with a more modest, $800 trade-in with a plan subscription. The list of devices you can get $800 for on AT&T is rather impressive, though, making its trade-in deal basically a free Galaxy S22.
To qualify for $800 Galaxy S22 credit, trade-in must have min. $35 trade-in value before device condition questions have been answered. Eligible devices:
Apple iPhone: 7, 7 Plus, SE (2nd gen), 8, 8+, X, XR, XS, XS Max, 11, 11 Pro, 11 Pro Max, 12, 12 mini, 12 Pro, 12 Pro Max, 13, 13 mini, 13 Pro, 13 Pro Max
Samsung Galaxy: S, S 4G, S Aviator, SL, S Blaze, S Duos, S Duos 2, S Glide, SII, SII HD, SII LTE SII Plus, SII Skyrocket, SII X, SIII, SIII Mini, SIII Mini VE, S Lightray 4G, S Plus, S Relay, S Showcase, S Vibrant, S3 Neo, S4, S4 Active, S4 BE, S4 Duos, S4 Mini, S4 Triband, S4 X, S4 Zoom, S5, S5 Mini, S5 Sport, S5 Active, S6, S6 Active, Edge+ Duos, S6 Edge, S6 Edge TD, S6 Edge+, S7, S7 Active, S7 Edge, S8, A50, A50s, A51, A70, S8+, S9, S9+, S9+ Duos, A71, A71 5G, S10, S10+, S10 5G, S10e, S10 Lite, Note, Note II, Note3, Note3 Neo, Note4, Note4 Duos, Note4 S, Note Edge, Note5, Note5 Duos, Note7, Note8, Note9, Note10, S20, S20 5G, S20+, Note10+, Note10+ 5G, Z Flip, S20 FE, S20 FE 5G, S21 5G, XCover Pro, Fold, Fold 5G, S20 Ultra 5G, Note20, Note20 Ultra 5G, S21+ 5G, S21 Ultra 5G, ZFold2 5G, Z Flip3 5G, Z Fold3 5G
Google: Pixel 3, 3 XL, 3a, 3a XL, Pixel 4, 4 XL, 4a, Pixel 5, 5a
LG: Stylo6, V50 ThinQ, V60 ThinQ, WING 5G
OTHER: Moto Z4, Razer 2, OnePlus 6T, OnePlus 7 Pro, OnePlus 7 Pro 5G, OnePlus 7T, OnePlus 7T Pro 5G McLaren, Nord10, Asus Rog Phone2, Moto Edge+, Moto Z4, OnePlus 8 5G, OnePlus 8 Pro, OnePlus 8T, OnePlus 8T+, moto razr 5G, ZTE Red Magic 3, Microsoft Surface Duo, OnePlus 9 5G, OnePlus 9 Pro 5G
Best Buy and Amazon Galaxy S22 and S22+ deals
$50 off the Galaxy S22 and S22+ at Amazon (free storage upgrade)
$50/$100 off with carrier activation on Best Buy
Amazon and Best Buy dropped the ball on the Galaxy S22 release fun by bundling, well, nothing but the free storage upgrade, or, in the case of Best Buy, up to $100 with carrier activation and that's that. You'll be much better off buying the Galaxy S22 or S22+ directly from Samsung.

link