Bishop exhibits servant leadership at mission school
---
Key Points:
Zimbabwe Area Bishop Eben K. Nhiwatiwa inspired others by joining a Volunteers in Mission team from the Baltimore-Washington Conference in painting a new mega-block at a church mission school.
The new addition includes six classrooms, two offices and a large library-computer room. 
Construction began in early March and the new block was dedicated on Oct. 16.
---
Some bosses demand respect, but servants of God earn it by inspiring, motivating and developing a shared vision among many. 
Zimbabwe Area Bishop Eben K. Nhiwatiwa provided that inspiration when he joined Zimbabwe Volunteers in Mission in painting a new mega-block at United Methodist Hanwa Mission Primary School. 
For a quarter of a century, the Zimbabwe Episcopal Area and a Zimbabwe Volunteers in Mission team from the Baltimore-Washington Conference have enjoyed a faith-based partnership as they work together in the Murehwa Uzumba Maramba Pfungwe District.
Annually, a team from conference visits Zimbabwe to assess progress, strategize the way forward and sometimes witness groundbreakings or dedications. 
In July, a 16-member delegation led by Charlie Moore arrived in the Hanwa Mission Area to paint the new primary school block. The bishop, expressing appreciation for the team's years of ministry, said he wanted to join in the work.
"My Hanwa painting is a testament of servanthood leadership, where you direct people on what you can do together and go a step ahead and give a practical exhibition. Pastors in The United Methodist Church are not masters but exhibit servant leadership," Nhiwatiwa said. 
Subscribe to our
e-newsletter
Like what you're reading and want to see more? Sign up for our free daily and weekly digests of important news and events in the life of The United Methodist Church.
Keep me informed!
"We joined hands with the partners in a true sense of chabadza. They came; we worked and ate together." 
The Shona word chabadza means a partnership in which a passerby stops to help one already at work.
The bishop noted that God does not tell people to go one way, while God goes the other way. 
"Moses said, 'I cannot go if you do not go with me.' God walks together with us." 
Nhiwatiwa encouraged partnerships in building churches and schools and spreading the Gospel.
"At the end of the day," he said, "we accomplish God's mission."
Moore called the bishop's visit "a true blessing." 
"His visit confirmed the magnitude of this project and inspired our team to work even harder toward completion," he said. 
Last November, when the Zim Vim team was in Zimbabwe, the Rev. Henry Chareka, Murehwa Uzumba Maramba Pfungwe District superintendent; the Rev. Future Sibanda, Hanwa pastor-in-charge; and Gift Machanzi, Hanwa Primary School headmaster, presented the project proposal.
"We returned home, began recruiting the Zim Vim team and raising funds," Moore said. "Successfully, we raised $155,000 USD required for this construction, which includes a special grant of $54,000 from the Baltimore-Washington Conference. 
Construction began in early March and the new block was dedicated on Oct. 16. The addition is 328 feet long and includes six classrooms, two offices and a large library-computer room. Every room contains new furniture.
"(It) has completely changed the face of the school," Machanzi said. "It has facelifted the Hanwa Primary School landscape. The mega-block has further uplifted the spirits of teachers and pupils alike." 
Brendon Chaparira, a 13-year-old fifth-grader, uses a wheelchair. He expressed joy on the new block, which now has ramps. 
"My movement was limited," he said. "Being lifted causes backache, but now the block is user friendly."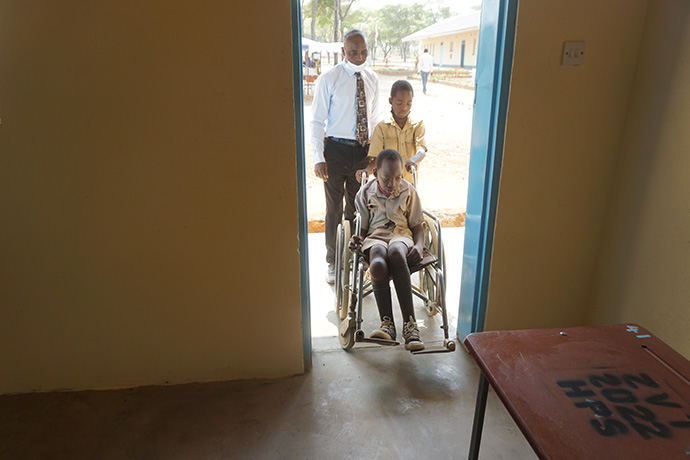 Brendon Chaparira can access his classroom more easily after ramps were installed during construction of a new classroom block at the school. Photo by Kudzai Chingwe, UM News.
Moore and his team are thrilled that the project went from initial proposal to formal dedication in less than a year.
"We are considering this a true miracle," he said.
Nhiwatiwa praised Moore's leadership. "With Charlie Moore," he said, "we always work hand in glove. He is a rare gem — a humble, dedicated, focused and transparent person." 
Chareka echoed appreciation for the Zimbabwe Volunteers in Mission team, noting that Hanwa is located deep in a rural area yet the visitors chose to spend many nights there. "We were overwhelmed with joy," he said.
He and Sibanda also shared their gratitude for the bishop's involvement.
"His visit has given our partners confidence in all the projects carried out in the district," Sibanda  said. "Hanwa is one privileged school to host the bishop's visit and to (have him) occasionally spend a day working on site."
Machanzi said Nhiwatiwa's visit was a joyous and momentous occasion for the institution.
"His participation in painting the school block and doors really inspired children and members of staff. They felt that if he could do it, then nothing would prevent them from doing it."
Seventh-grader Tatenda Sithole said, "We are grateful for all the support we are receiving from the church and Zim Vim. Our education standards are now far better than (those of) surrounding schools, despite our school being fairly new.
"Our wish is to have the best school in the district, even in the country, considering all the technological support that is being provided.
Moore said the team provided 28 Samsung Galaxy e-reader tablets for the school worth $5,000 on the recent visit.
"These are used to download books provided through the web by the Worldreader organization. Up to 100 books selected by Hanwa Primary School teachers can be downloaded on each device," he said. 
Worldreader, a global nonprofit organization, provides people in the developing world with free access to a library of digital books via e-readers and mobile phones.
Staff at the school said they are encouraged by the new addition, donations and the bishop's involvement.
Ward counselor Brighton Nyambo said Nhiwatiwa's participation in the painting instilled a sense of community. 
"By doing that, he strived to build a sense of community in us as a way to achieve success in meeting the objectives of Hanwa.
"This was a rare involvement of a leader, and it encouraged us to work harder," he said. "This motivated and inspired many. He showed that we are all equal before God and that we can work and achieve together."
Chingwe is a communicator for the Zimbabwe East Conference.
News media contact: Julie Dwyer at [email protected]. To read more United Methodist news, subscribe to the free Daily or Weekly Digests.
link