Kevin Bacon Singing in Guardians of the Galaxy Holiday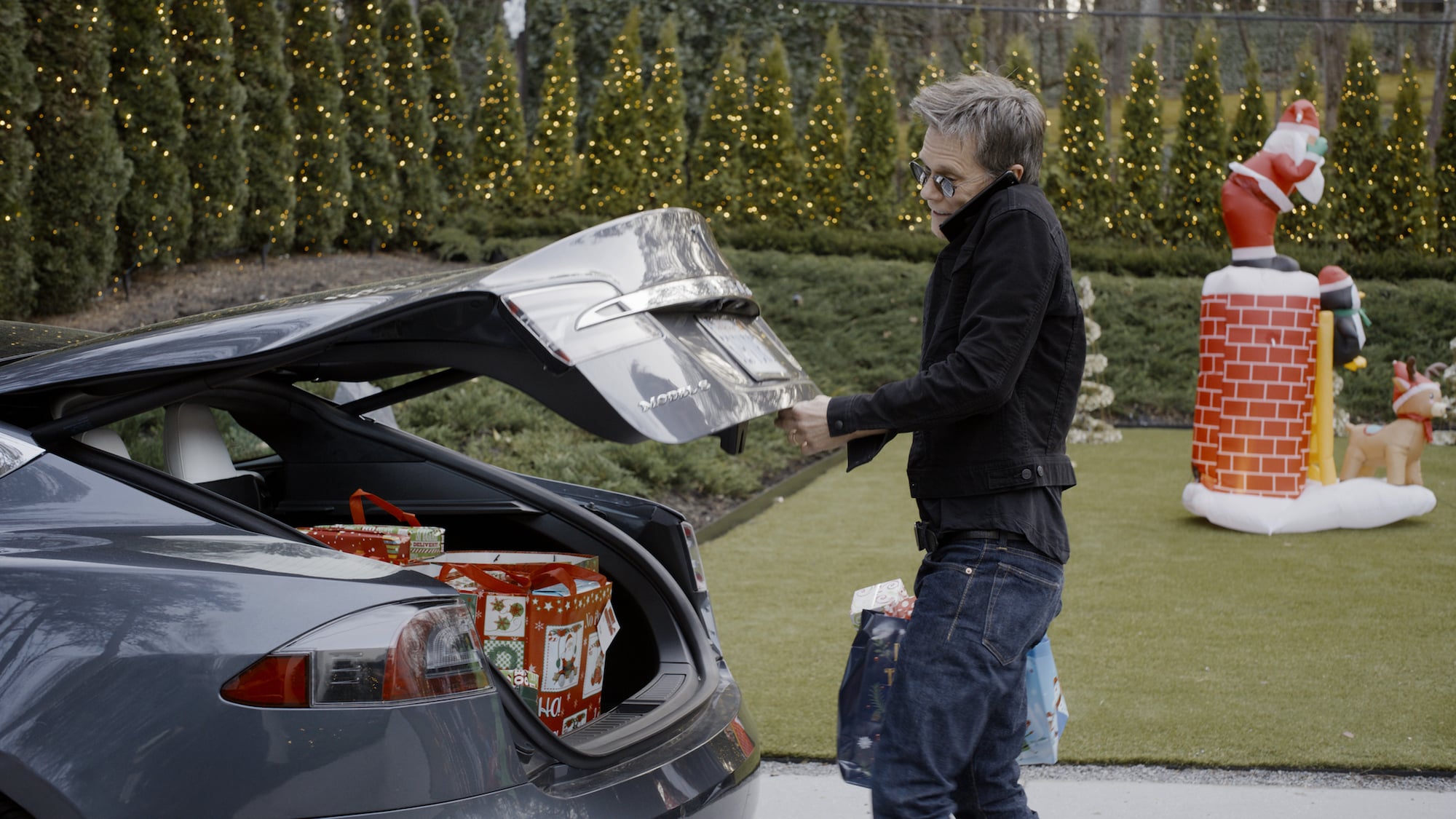 Unsurprisingly for fans of the "Guardians of the Galaxy" movies, the franchise's new holiday special features a lot of very inspired musical choices. Director James Gunn curated two soundtracks of iconic throwback bops for the first two Guardians films, and for "The Guardians of the Galaxy Holiday Special," released on Nov. 25 on Disney+, he picked a new selection of songs — including the Pogues's "Fairytale in New York," Low's "Just Like Christmas," and Julian Casablancas's cover of "I Wish It Was Christmas Today." But there are two other fun musical moments in the special as well, and they're tied to Marvel's newest character — Kevin Bacon.
Bacon appears as himself in the special. In the short film, Drax (Dave Bautista) and Mantis (Pom Klementieff) head to Planet Earth to kidnap Bacon as a gift for Starlord, aka Peter Quill (Chris Pratt), who they think needs to have a perfect Christmas. Mantis is also stressed because she's realized that she and Peter are brother and sister (their dad is "GOTG 2″'s Ego, played by Kurt Russell). Bacon doesn't want to go with them, but Mantis uses her power to manipulate his emotions to get him to come with them. Eventually, they convince a non-emotionally manipulated Bacon to stay with them in Knowhere for a little Christmas celebration and he jams with an alien band. But is that really Bacon showing off his own musical talents?
Is Kevin Bacon Singing in "The Guardians of the Galaxy Holiday Special"?
Yes, Bacon sings and plays the guitar in "The Guardians of the Galaxy Holiday Special." Anyone who follows Bacon on Instagram is probably not shocked by this news. The actor has lots of videos of himself singing and playing the guitar and ukulele on his account. He even does a whole series where he sings with his goats. In 1995, he formed a band with his brother called The Bacon Brothers, and they released eight albums.
In the special, Bacon jams with the alien band to "Here It Is Christmastime" by the Old 97's, which brings us to our next point.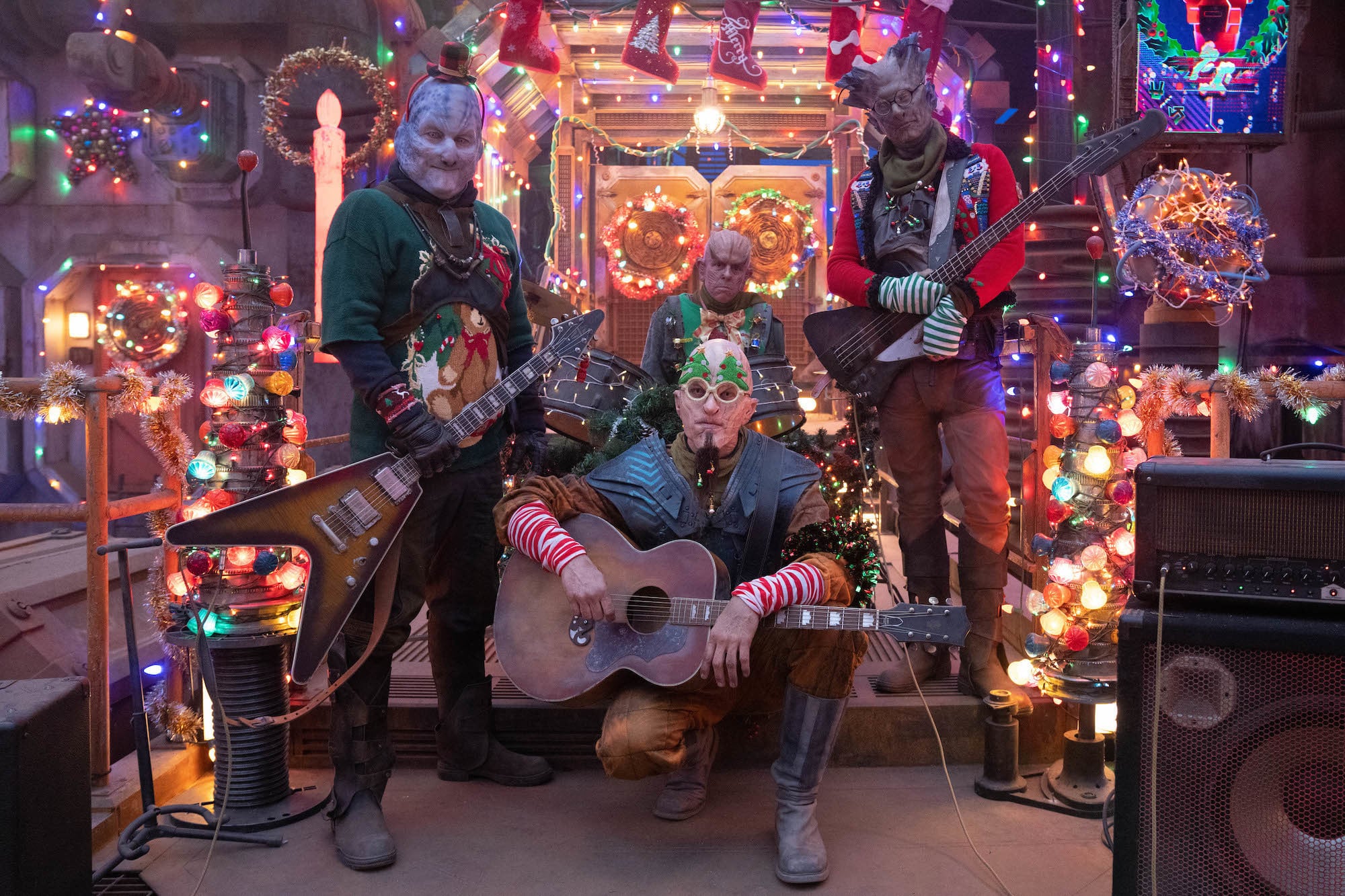 Who Is the Alien Band That Plays in "The Guardians of the Galaxy Holiday Special"?
The band of aliens in the special is played by the actual band the Old 97's. At the beginning of the special, they sing an original Christmas song for the film titled, "I Don't Know What Christmas Is (But Christmastime Is Here)."
Gunn opened up about how the Old 97's and their songs ended up in the film during a Nov. 18 interview with The Hollywood Reporter. He and lead singer Rhett Miller became friends when the director used one of their songs in his first movie "Slither." Gunn decided the special should have an original song, but he was struggling to come up with something good. "And finally, I approached Rhett and asked, 'Will you help me write this song? Because I can't do it by myself,'" Gunn told THR. "And he said, 'Absolutely.' And so we started sending tons of recordings and lyrics back and forth, and we wrote that song together."
After they wrote the song, Gunn suggested Miller and the band come on set and act in the film, too. "And then we took a previous song that they had recorded, and they re-recorded it with Kevin Bacon for the end of the show," he explained.
"The Guardians of the Galaxy Holiday Special" is streaming now on Disney+.

link