Nick Lees: Stolen bike as teen launches Edmonton's Pinhead Components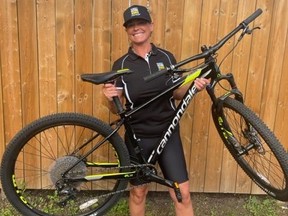 Article content
Linda Young was a 15-year-old junior high school student in St. Albert when her bike was stolen.
Article content
"I commuted to school on my bike and I couldn't get hold of my parents," she says.
"I was upset and began thinking of how I could make a lock that protects wheel components from theft."
Pinhead Components, the company she founded, is celebrating its 25th anniversary this year and on Saturday, Young flew to Frankfurt to continue its success story.
"My company has become a global leader in bike security and safety and our locks are being carried by stores in major cities throughout North America," she says.
"I now plan to market my locks more directly in Europe and will exhibit in Frankfurt July 13-17 at what is regarded as the continent's biggest bike trade show.
"I will then carry on to visit key markets in other cities throughout Europe."
Article content
Pinhead is a world leader in component bike locks, with one turn of a key securing the wheels, seatpost, saddle and headset.
And Young's latest creation is up for a prize in Frankfurt.
"We have created the Pinhead TagBox," she says. "By using a customer's Apple or Samsung phone and locking the TagBox onto the bike, cyclists will be instantly able to see the location of a stolen bike."
Apple AirTags and Galaxy SmartTags inserted into the TagBox reveal the bike's whereabouts. But without the TagBox they can be easily detected and removed.
"The lightweight, compact, indestructible TagBox prevents that from happening," says Young. "A casual bike thief will not be carrying around the tools to defeat it."
A TagBox cost is just over $50, plus the cost of the tag, but Young notes the protected parts cost many times more to replace.
Article content
"Post pandemic, with inflation sending gas prices very high, concern for the environment and fitness, and with more bike lanes in the city, there is an increased demand for bicycles," says Young.
"People are willing to invest significantly more now in commuter, recreational and electric bikes. And their peace of mind for safety and security is paramount."
Summer Christmas festival?
Good news for the many supporters of the University Hospital Foundation's (UHF) annual Festival of Trees.
"We are coming out of a multi-year pandemic where we have had to pivot and change our events," says Jodi Abbott, UHF's president and CEO.
"But this year we have some great things in store for Festival of Trees and we are sure we will get Edmontonians excited."
Article content
Proceeds from the Festival of Trees fund are critical to health-care programs.
Last year's festival raised $1.75 million to advance training and education at West Edmonton Kidney Care for home therapy programs dedicated to people diagnosed with end-stage kidney disease.
"We are planning a spectacular summer event that's right around the corner," says Abbott. "There will be live entertainment and champagne, but please keep it quiet. It's still a secret."
You are also now in on the secret.
And it is worth noting in pre-pandemic 2019-2020, the UHF distributed $15.4 million to help advance health care at the University of Alberta Hospital, with $6 million invested in critical areas of patient care and $9.4 million designated for medical research.
I celebrate my 80th birthday Oct. 14 and friends and I plan to mark it by helping the UHF purchase cancer-fighting equipment. Tune in next week to find out how you might help.
link