Satechi Duo Wireless Charger review: Clever & superfluous multi-device battery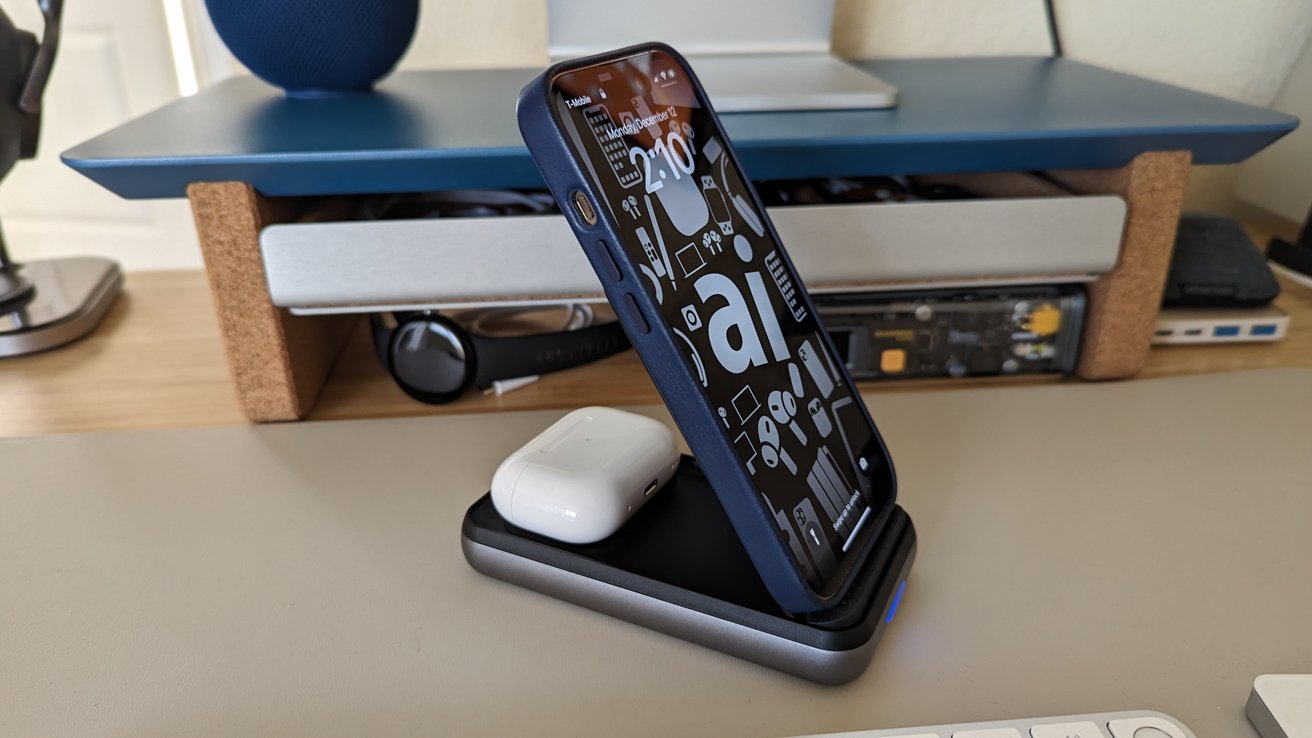 ---


AppleInsider may earn an affiliate commission on purchases made through links on our site.

Satechi's Duo Wireless Charger Power Stand is both a perfect multi-purpose travel gadget and an overpriced power bank, all-in-one.
Satechi is a reliable accessory maker creating functional gadgets, but this Duo Wireless Chargermight be a little misguided in its attempts to combine different utility into one item.
The inclusion of a 10,000mAh battery in the Duo Wireless Charger means it's meant to be more of a road warrior and less of a stay-at-home stand. And it will surely be a great travel buddy for some people.
At the onset, however, we just weren't sure whether the stand function and dedicated AirPods charging spot really justified the $100 retail price point. We went hands-on with it to figure out if its design was really worth the cost or not.
Satechi Duo Wireless Charger Power Stand review – A fancy power bank
The Satechi Duo Wireless Charger looks like a portable 2-in-1 or 3-in-1 bedside dock. Its secret is that it houses a battery that's more than capable of charging any iPhone to at least 100 percent without needing a wall outlet.
It can wirelessly charge a phone (or another Qi-capable device) flat on the top. That top slab can then lift up if you need it to function as a stand too.
AirPods can lay on top of the charger and get power that way, but underneath the stand is a spot dedicated to AirPods charging. The wider AirPods Pro case fits just fine in the spot carved out for Apple's earbuds.
There's a power button to turn the power on and off. If you want to use it as a stand without draining any power from it, that's possible. There's also a USB-C port in the back for recharging it or powering another device using a cable.
The heart of this product is simply a fancy external battery made a tiny bit thicker by the ability to prop a phone upright.
On the road
Lifting the top panel upright provides a way to charge your phone while also using it for FaceTime calls or watching videos hands-free. The phone will charge in portrait or landscape orientation.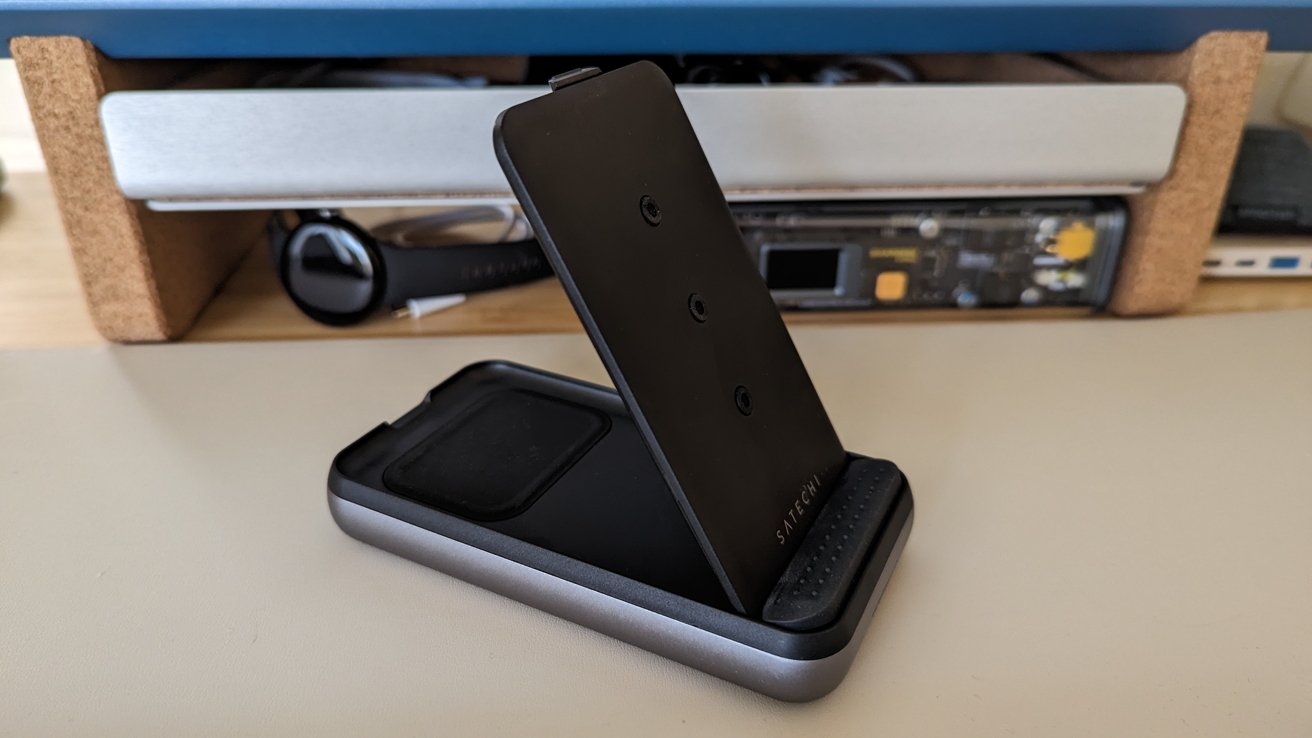 The charger includes a spot for AirPods underneath the stand
There are no magnets or anything to keep the phone in place so you will need to be careful about bumping it. This feature, while handy, also brings us to the biggest conundrum. Figuring out who would need to wirelessly (and slowly) charge their phone on-the-go, while also propped up in the stand.
One obvious scenario is that while traveling you want to charge your phone at the hotel and also use it to watch videos. That makes sense but doesn't quite explain the battery making it thicker and heavier than it a charger plugged directly into the wall.
If you do need a battery pack that can charge a device wirelessly so you don't have to bring or fumble with cables, you're probably moving around too much, from Uber to airport to hotel, to use the tilting stand feature.
We took the Duo Wireless Charger out with us to work at a library and a coffee shop to see how it worked outside the house.
Setting it up on a table next to our laptop provided nice visibility to notifications and widgets on our iPhone while getting a little bit of power. Nothing about it felt compelling though.
We're sure someone has a specific need for this type of power bank, but it's hard to imagine it's a lot of people will ultimately need it.
Satechi Duo Wireless Charger Power Stand design
In terms of the components, the hinge of the folding lid is technically impressive. There are no set angles and it will hold an iPhone's weight at any position between completely flat and as far up as it will go.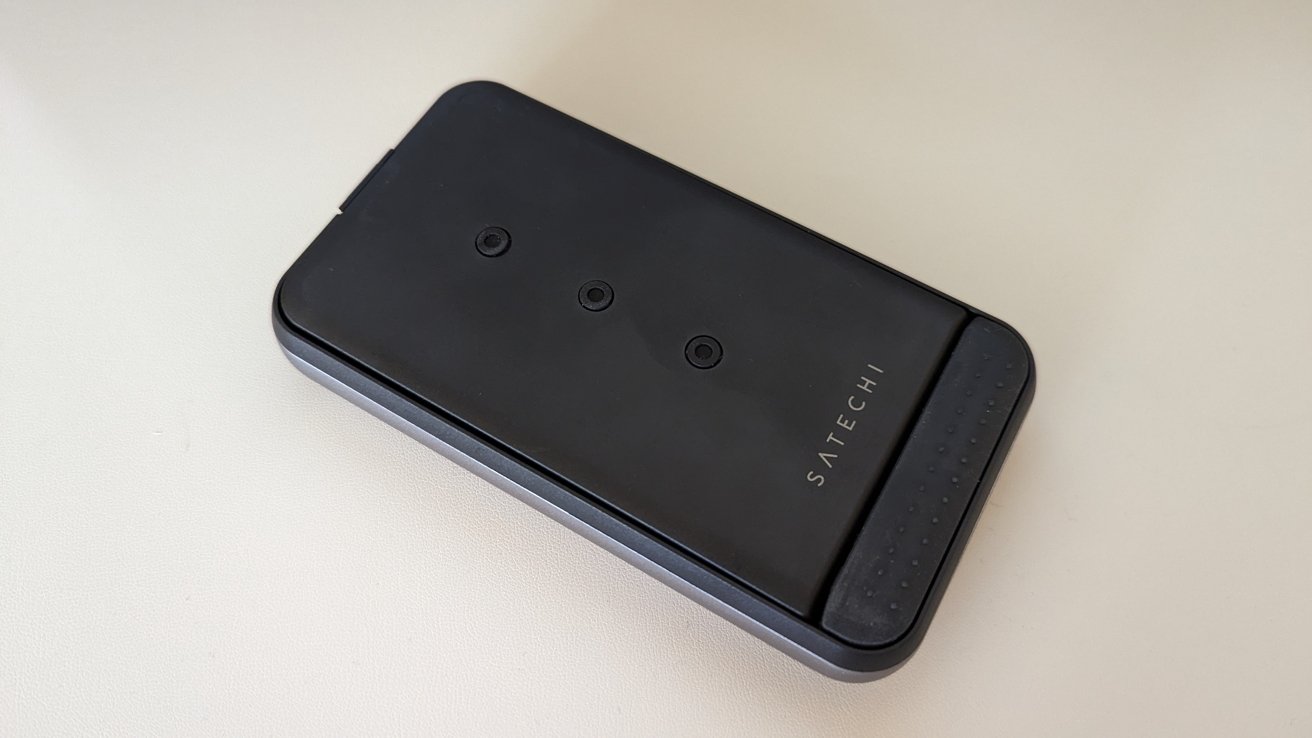 A third device can be charged with a cable from the USB-C port.
The hinge is certainly a positive feature overall, but it does lack a securing mechanism when it lays flat.
We wish it had a satisfying lock to snap into place or a strong magnetic force to pull it closed. In our use, the top stand didn't always feel securely back in place.
To be clear, the stand part never flopped open in our bag and most of the time had no movement to it, but it always required a second and third check to make sure it was, in fact, pressed down all the way. Constantly checking that was a little annoying over time.
Satechi Duo Wireless Charger Power Stand is for road warriors
There's nothing technically wrong with this Satechi charger and stand combo. It's a really good wireless power bank.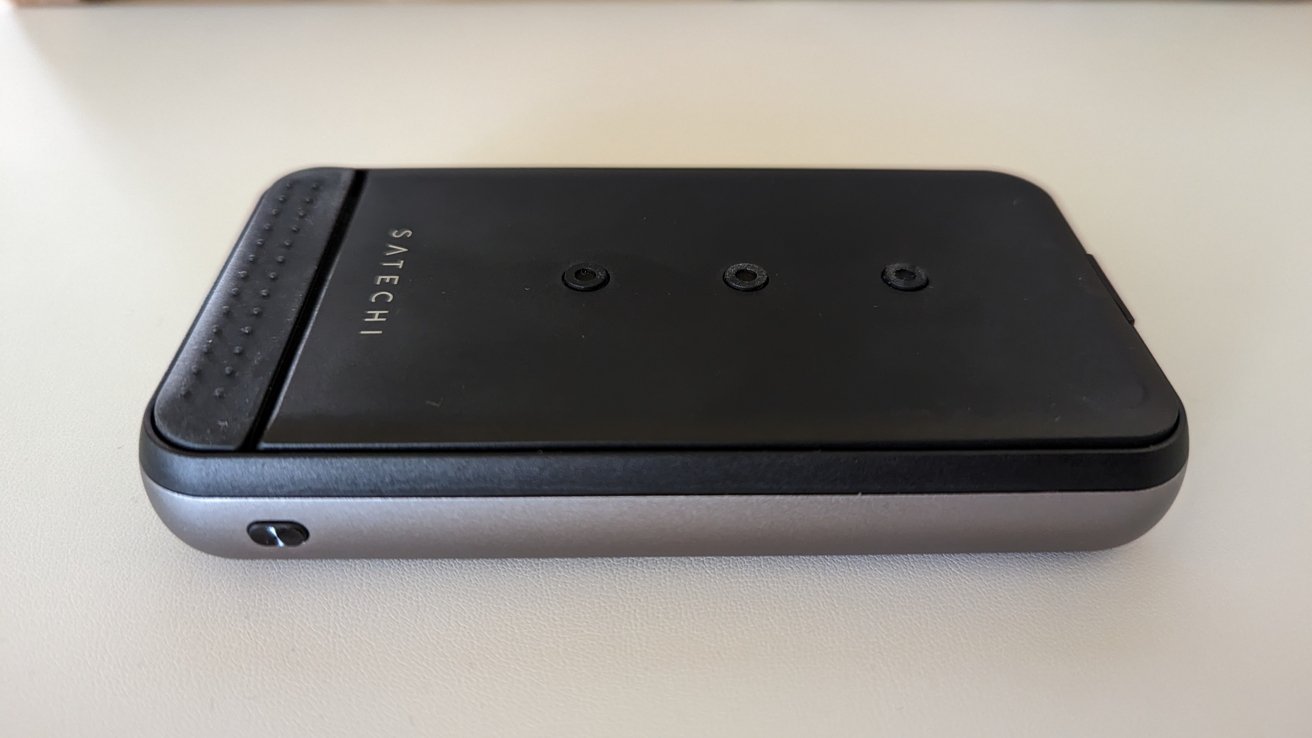 The charger has a power button on the side.
We wish the top stand clicked shut more securely, but that's more wish fulfillment than any actual problem we had using this device. Even the limited charging speeds of the two Qi spots at 5W each and the USB-C port at 10W (5V/2A) aren't bad, merely unfortunate.
We do have quibbles with the product's practicality, however. Some of the use cases seem unnecessary or misguided as mentioned previously. Constant travelers and road warriros should find this product's niche, but most people won't need its cleverness.
If you really want a portable iPhone stand powered by a 10,000mAh battery then we do recommend this one.
Satechi Duo Wireless Charger Power Stand – Pros
Stand function works well

Portrait or landscape Qi charging

Can charge multiple devices if needed
Satechi Duo Wireless Charger Power Stand – Cons
Thicker than other wireless power banks

Top stand has no locking mechanism when laying flat

Slow charging for multiple devices
Rating: 3 out of 5
The Duo Wireless Charger is available for purchase at Satechi's online store for $99.99.
link